Join today
It all starts here: Foundation Level 2 Food Safety
Three succinct modules presented in bite-size chunks, covering all the essential information you need to know if you work in a food handling environment.

Now updated with a full audio voice-over to help you retain that key information and fly through the end of course exam. There's also a helpful glossary of word definitions to download - see the paperclip icon next to the course introduction in Module 1.

For a limited time get FREE access to Module 1, click the button below! This offer is due to end very soon...
Duration
60 minutes
in bite-size chunks
What you are going to learn
The objectives of this course
Anyone working in a catering, manufacturing or retail setting where food is prepared, cooked and handled will benefit from this essential course.
It is appropriate for those employed in:
pubs, hotels, restaurants;
supermarkets and retail environments;
food and drink manufacturing;
hospitals and healthcare;
care homes;
schools;
prisons.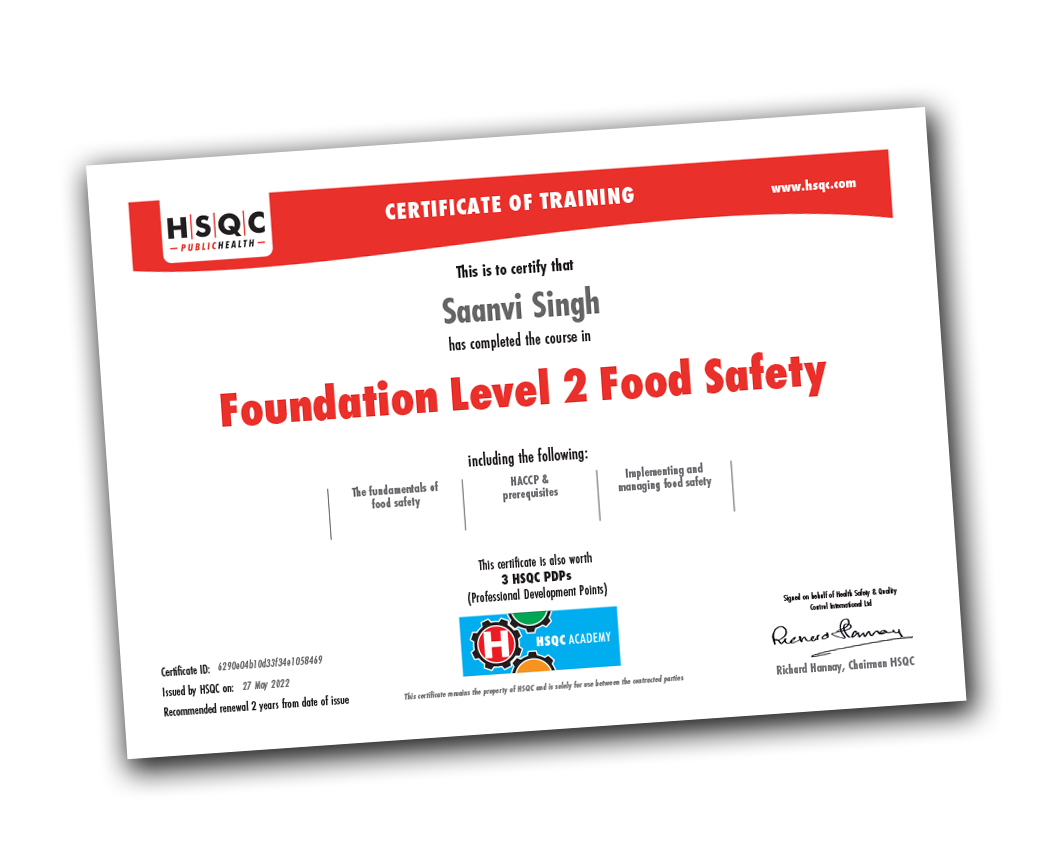 Learning outcomes
Throughout this bite-size course you will :
Cover the fundamentals of Food Safety
Learn about food contamination and the science of Food Safety
Investigate food borne illnesses
Look into HACCP and it's prerequisites
Learn about the importance of time and temperature control
Cover food storage and preservation
Discuss the importance of personal hygiene

Look at pest control

Find out about cleaning and disinfection

Think about premises and equipment used in a food production environment

Learn about implementing and managing Food Safety

Discuss Food Safety codes and regulations

Understand about Environmental Health Officers

Get an appreciation of the importance of Food Safety training
Refreshment of this qualification is recommended at least every three years.
Richard Hannay
Managing director of HSQC and industry expert with over 35 years of experience. Richard is our head training officer.
About
Richard is a Director of SAFERPEST a company providing integrated pest management and public health services in London and throughout the UK.Richard is a founder director of the ACADEMY OF HOSPITALITY an international London based forum for hospitality professionals and leading experts who are committed to excellence in safety, disease management and environmental quality in the hospitality industry.

A qualified Public Health Practitioner with a passion for Natural Therapeutics, who has studied and worked extensively in the Middle East, USA and Europe.
Course feedback
"Great knowledge of food safety handling, very easy to use…"
Zsuzsanna
Chef / Café Owner
"The training from HSQC Academy certainly helped us become better prepared for the recent unannounced EHO visit."
Veronique
Sous Chef
"I must compliment the team at HSQC for putting together such a knowledgeable and accessible course…"
Anahita
Business Owner
Created with